Young People
WWA Youth is the youth work available across three neighbouring parishes: Woodford St Mary's, Wanstead Parish and Aldersbrook St Gabriel's. The partnership aims to join resources to allow the youth ministries to grow together  to help young people  know that God loves them.
Going Deeper meets alternate Thursdays from 7.30-9.15pm at St Mary's Woodford Church. Going Deeper is a great opportunity for young people to encounter God through worship and prayer. We have some very interesting conversations in our discussion time together as chosen by the young people.
We also organise outings to go to worship nights, plays, youth conferences and try to put our faith into action.
The club is open to any age from 11-18, who want to meet with God in a deeper way. The group has at least two adults present at all times who hold a current DBS. For further details about this group please contact our wwayouth worker Becca here or ring 07490459850.
Quest is Sunday youth ministry for years 11+.
This group meets during the 10.00am Sunday service in the upstairs room of the Memorial hall (the last door beyond the 2nd set of double doors) – please ask someone with a badge (churchwardens or hospitality team) for directions if you are unsure where it is.  Members of the group join the main congregation during the Passing of the Peace in order to participate in communion.
The teenagers build upon friendships established at Quest, and it welcomes young people new to church and helps them feel part of the congregation. The group provides an opportunity for young people to explore their faith using a range of activities. Sessions are run by the youth worker and the youth team who hold a current DBS. For further details about this group please contact our wwayouth worker Becca here or phone 07490459850.
Signpost Youth Group meets on the 2nd and 4th Friday of the month at Christ Church Wanstead Parish Hall from 8-9.30pm. Signpost is for young people aged 11-14, and has Junior Leaders aged 14-18 who wish to volunteer. Young people have a great time together chatting, playing table tennis, games, craft, sport, and engaging with discussion around life and faith. We have visiting speakers, trips out and a weekend away. For further information contact our wwayouth worker Becca.
Youth Alpha & Confirmation
Youth Alpha is a 10 week course we run on Sunday evenings to explore the Christian faith together from the start of September. For those wishing to be Confirmed, where you public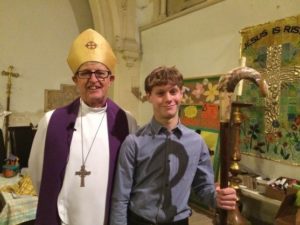 ly declare your Christian faith, this is a pre-requisite and is followed by two sessions about your Confirmation. We also offer a youth weekend away mid-way to help explore faith further in community with others.
Monthly Youth events are organised such as Bake-off, trampolining and Youth Festivals, as well as deanery, diocese and other youth events that we are happy to support and advertise.
We have an outdoor-adventure Youth weekend away in March that explores faith
We have a going deeper in faith Youth Weekend away in October that accompanies Youth Alpha
Holiday clubs (including Junior Leader volunteering opportunities) run the 1st week of summer
11-14s summer camp is the 2nd week of summer
14-19s summer camp is the 3rd week of summer
For more information and to sign up to our Youth Newsletter contact Becca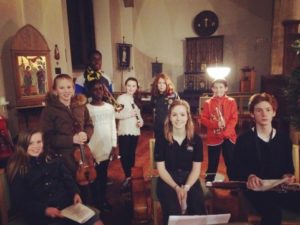 Woodford St Mary's Junior Choir rehearsal Sunday 9-9.30am for service 10am to 11.15am
Wanstead Parish Junior Choir rehearsal Friday 6.45-7.45pm
Aldersbrook St Gabriel's Youth music group Sunday 11.30-12.30am
Aldersbrook St Gabriel's Youth Drumming Club Friday 6.30-8pm
For information about Guiding at St Mary's, please click here
A message to parents and guardians…
Thank you! Thank you for being here.
It tells us that you care about your young people and what they are attending at church. We are big fans of you, without you we wouldn't have a group of amazing young people to be with! It's well known that it's a tough and often thankless job raising a child, so thank you, you're doing great! We at WWA Youth believe it's our role to partner with parents in helping young people be the best that can be.
Thank you for your smiles, car lifts, financing trips, asking about youth, speaking with your sons/daughters about their lives, all of it.
Safety
Your child's safety is extremely important for the team and the church as a whole. That's why every leader has to fulfil the following criteria:
To be known personally by a member of staff
To hold a clear DBS check
To be in agreement to the safeguarding policy
To always report any concerns to the youth worker
To complete training as required
We have a minimum of two leaders at all our youth events. On other occasions when we are hosting special trips or events, we will let you know before hand and ask your consent. If you have any questions or concerns, then please do feel free to contact us.
YP, YOU & YW
You are the most influential person in a young person's life. We always endeavour to keep you in mind when we organise youth events. We know that your time is precious and family time even more precious. We will try to keep clear, open and regular communication about all our events; dates, times and costs, so that you can prepare well in advance. Please do check emails and our youth newsletter for updates, in case our letters never get to you via their backpacks or pockets. We do not want to take away your family time and we want to support you in helping to raise your child with love, in a safe and caring environment, as they explore faith.
We know that young people thrive and do their best when things in their life are consistent. Relationships allow a young person to find a place where they belong among peers, supported by a youth leader and discover a relationship with God. Attending youth events consistently will help them find stability and allow them to interact more and more with the topics, discussions and opportunities to meet with God. We would love to support you as parent(s)/guardian(s) as much as possible to encourage your young people to get involved and to start building up a network of Christian fellowship. Everything you do that enables relationships to flourish in the church, helps to provide strong links of Christian support. As a youth team we will cheer you on as you pick up your children to get them to youth on time, or drive them and their friends over to our weekend away. On our part we are proactively always looking for opportunities to build friendships with your young people and also with you so that we can stand alongside you as you raise your child.
If you have any questions or concerns, then please do feel free to contact us at wwayouth@hotmail.com.